---
RE: hAPpY biRtHdAy to US!! and YOU!! please sign our guest "book!" - The Elf - 02-08-2021 07:35 PM

I had gotten a kitten I named Leelan from the sweetcats 2. she is a mega ultra rare. and I didn't want a mega but kept her anyway. I watched her grow and got attached. She became more of a family member then a breedable to me. she is special to me and still keep her with me.


---
RE: hAPpY biRtHdAy to US!! and YOU!! please sign our guest "book!" - Nikki Zimerman - 02-08-2021 07:38 PM

I honestly can not remember how I found out about kittycats but I found you guys originally back in 2013 if I remember correctly. I couldn't be active like I wanted to be due to rl, net issues and eventually laptop issues. A little over 2 yrs ago I got back into kittycats! because of a friend of mine. He was really big into the kitty auctions and that prompted me to get back into the kitty game. Now I breed all sorts of kitties from genesis dominos to tigers! to ocicats and many more. I've spent nearly my whole life in the real world studying cats from domestic to the majestic big cats that I adore. I simply love cats other than my kids they are my life. I absolutely love all the details and effects these kitties of ya'lls have. I love the variety of coats and eyes. The vampy ears are one of my fav ears. The tigers! are my fav breed. Anytime a new kitty comes out I get so excited cause I can't wait to see what they look like and what they'll produce. Even if it's not a special kitty it's still exciting to me. I'm so grateful that kittycats! exist cause these cats truly help keep me out of the dark places that try to consume me.

Nikki Zimerman


---
RE: hAPpY biRtHdAy to US!! and YOU!! please sign our guest "book!" - Omega Madrigal - 02-08-2021 07:42 PM

It was funny when I had my fist kitty, because I was like still need to download because is green jajajaj it was around San Patrick day. I didn't know that they comes in all sizes and colors, LOL


---
RE: hAPpY biRtHdAy to US!! and YOU!! please sign our guest "book!" - Theodore Nacht - 02-08-2021 07:43 PM

Before Draco and myself started KittyCatS, we were men's fashion bloggers, creators, and DJs, among other SL hobbies. I regularly checked out the Fashion Feed for new looks and items, and one of my favorite bloggers was Harper Beresford. One fateful day, I saw her posed with some adorable animated kitties. I wanted one instantly. I showed my husband, and he wanted them too. Caveat: They weren't out yet! This was the first ripple in the larger pond that KittyCatS was coming...

So Draco and I signed up immediately for the beta. We didn't get accepted, so instead we stayed in the SL group, watching for pictures and details to be shared. We gobbled up every scrap of info about the precious new addiction. And when the sim finally opened and the kitties were available for sale... We shelled out for those genesis starters with striking alacrity. We purchased ONE pair, and we thought that would be plenty...

Oh how wrong we were. Getting that first trait--azure eyes!--out of our smokey starters thrilled us. There were collection cats too, and those Valentine's babies--the SweetCats--and the Leprecats that followed on St. Patrick's Day really cemented for us that this was our new obsession. They were so cute, and the community... Everyone we'd enjoyed SL's indie club scene with, popular bloggers and creators we'd long loved... They were all there in KittyCatS's first year, and the vibrance of those first auctions, the parties, the markets... Ahh. Nostalgia's powerful stuff.

It's been a truly amazing ride, and I owe it all to Harper Beresford's blog post that day. I had no idea how much it would change my life.


---
RE: hAPpY biRtHdAy to US!! and YOU!! please sign our guest "book!" - Brieanne Bomazi - 02-08-2021 07:46 PM

So my very first Kitties...Sunday, March 30 8:19:50PM PST 2014. We had a death in the family and about that time I discovered kittycats....and been hooked since! This is Pez, the firestorm cat, and Serenity, in honor of my stillborn granddaughter. I still have them both! This is my first picture of me & the kitties!

https://gyazo.com/11d49785309a821d9fdc2361db65d246


---
RE: hAPpY biRtHdAy to US!! and YOU!! please sign our guest "book!" - tashasice Resident - 02-08-2021 07:48 PM

i love my cats ty happy birthday


---
RE: hAPpY biRtHdAy to US!! and YOU!! please sign our guest "book!" - Apryl Amore - 02-08-2021 07:48 PM

My grandmother had 12 children, 8 of which were girls. I grew up in the sweetest little town, dotted on either side of the road with houses of each family. A lot of the 12 had married and settled right there in that neighborhood to raise their families. My dad was the youngest and some of my most treasured childhood memories were made right there at my Gams house with my aunts all gathered in the "good" living room cackling like birds telling stories and fun things about the past. I searched all over trying to find the most beautiful kittycats, a few Fancies, a Wild Flowers, a Blooms & Birdie, Painted Love etc...and named them after each aunt- Khaki, Olive, Alma, Annette, Eleanor, Jean, Betsy and Judy ♥

That was a few years ago and I am still loving all the kittycats and always breeding hoping for a mega!

Happy Birthday Kittycats and thank you for 10 years of sweet kittycatS!


---
RE: hAPpY biRtHdAy to US!! and YOU!! please sign our guest "book!" - KnottyKarma Resident - 02-08-2021 07:52 PM

My fiance brought home a kitty and was a little obsessed right away. I teased her a little bit for her new hobby and how IN to it she was. LOL

Somehow I ended up getting one too...then I was obsessed! Now we spend so much time with our kitties. I am always amazed at how much personality they have. So many quirks they seem real!

I love my kitties SO much!


---
RE: hAPpY biRtHdAy to US!! and YOU!! please sign our guest "book!" - LittleMe Jewell - 02-08-2021 07:59 PM

My first kitty was the Snowball kitty - the Winter 2012 Advent gift. I fell in love and still have him as one of my perma pet kitties. I collected a few here and there over the years, but only started breeding them a couple of years ago. I seem to be truly hooked now, with roughly 30 perma pets in addition to the breeding ones.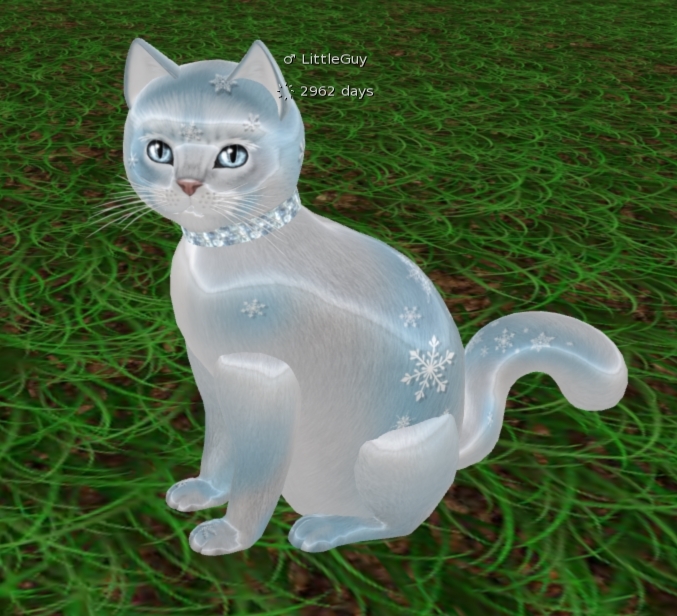 ---
RE: hAPpY biRtHdAy to US!! and YOU!! please sign our guest "book!" - Mistary Sandalwood - 02-08-2021 08:05 PM

Yayyyyyyy for your Birthday!!!!!
My favorite KittyCats memory is decorating for the Holiday Contest with my son. We never 'won' but we are winners because we got to spend time together doing something we love. Thank you so much for the opportunity and we look forward to doing that again.
Misty Monday

---