---
RE: hAPpY biRtHdAy to US!! and YOU!! please sign our guest "book!" - Ellen Ireland - 02-12-2021 07:11 AM

Little did I know, when I picked up the Firestorm kitty in September 2015, that I was entering into a long and amazing journey with KittyCats. My late husband and I used to breed and show Siamese and Oriental Shorthair cats in real life, but due to his poor health, we had to stop doing that decades ago. Breeding KittyCats over the past five and a half years has allowed me to have the "houseful of cats" that I can no longer enjoy IRL. I have met so many interesting people through KittyCats auctions, tried my hand as an auctioneer for awhile, opened shops at various markets, closed them and opened them again elsewhere, including land of my own. I've had and I am continuing to have a ton of fun with these kitties. My main problem is that I want to acquire more and more of them and I don't ever want to let go, so here I am in the year 2021 with 11,853 boxes as of this morning!


---
RE: hAPpY biRtHdAy to US!! and YOU!! please sign our guest "book!" - finallygotitrite Resident - 02-12-2021 08:30 AM


(02-08-2021 07:13 PM)

Callie Cline Wrote: happy birthday to you all!!

it's been TEN YEARS since we opened up, and WOW... what a journey it has been!!!

i'll just say this... nev

er in my life would i have imagined the RIDE this journey has been!!! from laughter, tears, joy, fear, and every single emotion. you can possibly have, this KittyCatS! journey has had them all!



i have enjoyed most of the ride, and for SURE have learned more than i ever imagined i would. i've learned about art, people, business, cats, cat breeds, cat furs, cat noses and paw skin matching (except when they don't) and SO SO SO much more!





when this idea started, i had a very busy brand (caLLie cLine) that did women's clothing and lifestyle items and a few other businesses (Tomboy, Pampered Pet Shop, and a consulting business) that my time was spent on. i LOVED my "caL gaL" group and my HOPE was that the joy and fun we had together would be able to be replicated in the new KittyCatS community.





since many of those "gals" joined KittyCatS, it seemed possible and WOW, not only has it been similar, it has been its own wonderfully creative and kind community that has surprised me so many times.



i've said it before, but your kindness, creativity, humor, wit, generosity and MORE has been such a fun thing to partake in with you all. i LOVE being part of this community.

happy TEN YEARS to you all who have given, joined, laughed, cried, quarreled (not that so much) and more.

YOU are a BEAUTIFUL and KIND and GENEROUS group of humans who i am so thankful to be on this ride with!!



please sign and share a memory of how you found KittyCatS and let us know a story about an experience you've had with KC that you have enjoyed!!



it would be such a gift for us to READ what your unique experience has been!!!



happy birthday to you!!! ENJOY your twin birthday babies!!



much love to you,

callie
"the princess kitty"
---
RE: hAPpY biRtHdAy to US!! and YOU!! please sign our guest "book!" - AstridSolace Resident - 02-12-2021 08:31 AM

After years of battling illness I found myself completely isolated, without friends , hope or purpose, then I was introduced to SL. Struggling for some time to find my place in SL, I almost gave up, it wasn't really till I found the very welcoming KittyCats community I was able to find my own creativity and gain the confidence to speak to people, our mutual love of the kitties united us. I discovered kittycats not long after I joined 8 years ago, and being a great lover of cats already, was instantly captivated, though having no lindens then, it wasn't until a bit later I got hooked through the offer of the first firestorm kitty and free starters. My family and I got them and bred them together, and I was hooked. I had such great memories of exploring all the markets for hours on end, going to auctions, playing with my kittycats and contemplating their pedigrees. Eventually I found myself able to help with auctions and markets, giving me greater purpose. I've never felt like I really belonged anywhere until I found KittyCats, there is no community quite like this one that I have found. I've been so privileged to meet so many wonderful people in the last 8 years, who I hold very dear still, even though I still struggle with my confidence, but 9 years ago, I never imagined I could have this many friends in my life. Most of my family and friends were met through KittyCats, and without them I would be lost. KittyCats have so many inclusive events and auctions that anyone can be part of, places to make new memories and friends. Sadly, these days, because of changes in my life, I haven't been able to attend as much. Though even in the darkest of times, I feel I can depend on the kitties to bring a smile when I log in, with so many varieties and combinations to be discovered still, I can never get enough of them. Their animations are the cutest in SL, I can never resist their adorable rolls, bleps and head tilts. I always have at least 40-60 cats breeding at any one time, most of them all separate projects, and many, many more pets. Yeah so hard to pick just one memory, but in the spirit of Valentine's and KittyCats birthday, I have fond memories of Sanura's Kitty & A Date auctions with the KittyCats team, and past KittyCats birthdays I was able to attend, with Callie being persuaded again to sing the Pussy Cat song.
Happy Birthday and thank you KittyCats, long live KittyCats!


---
RE: hAPpY biRtHdAy to US!! and YOU!! please sign our guest "book!" - Evolving Yin - 02-12-2021 08:40 AM

I bought my first pair of KittyCatS in 2015. I thought I would breed them just for fun. The first box I opened was named Pandora. I perma petted her, as she was the first of many more to come and started it all. I don't have time to take a picture of her right now so instead I will share this cute pic of a RL Toyger kitten.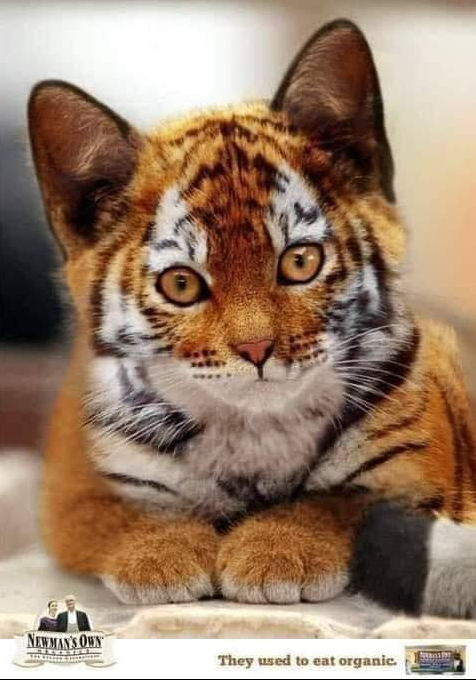 ---
RE: hAPpY biRtHdAy to US!! and YOU!! please sign our guest "book!" - finallygotitrite Resident - 02-12-2021 09:01 AM

Happy Birthday! my bf at the time bred them. She stopped playing as she now has a baby..well, now he is 3. anyway.. she gave me her cats she had birthed and I suddenly had 27 cats!!!!! I'm disabled now but when I wasn't I had a farm. at one time we had 33 cats and kittens! People would drop off a cat and a bag of food. we'd been out and as we approached our driveway we'd see a bag of food leaning against the mail box. and my kids one grab the bag one opened the gate and we would be looking for a cat. Bring it indoors for a while and let him adjust. He was introduced to some of the cats from the farm slowly. and the dogs(12), horses (8) chickens (??), goats, (3) pot belly pigs (mom and baby 13) and rest!So I felt at home with 27 cats. I love these cats I have pictures with all my kitties. thank u so much. Ive been here 10 years as of the 11 of February and Joined up with kitty cats in 2014. I'd add a picture but i don't know how to make it smaller.. God bless u all. u make my SL feel like my old RL.


---
RE: hAPpY biRtHdAy to US!! and YOU!! please sign our guest "book!" - Schizoprinces Resident - 02-12-2021 09:12 AM

Happy Birthday Kittycats! You bring us incredible happiness and love with your amazing kittens! I been with you for 4 years and i can never stop


I started when i seen a friend Dnb Dave was breeding them and he gifted me two kittens.
I was so unpatient to birth them and i played with them every day since.
Your breedable is amazing and it is one of the best things in my day when my little kittens come around and greet me.


I add a picture of me cuddling kittens with my friend Dave

---
RE: hAPpY biRtHdAy to US!! and YOU!! please sign our guest "book!" - Jeff Melendez - 02-12-2021 01:29 PM



Happy Birthday Kittycats I have been with Kittycats for the past 3 years I got my first Kitten during the SL15B She was a female and i mated her with my partners SL15b Male since that date i have been hooked My Fav kitty would have to be the devil doll's




---
RE: hAPpY biRtHdAy to US!! and YOU!! please sign our guest "book!" - Stephie Littlepaws - 02-12-2021 02:28 PM

Love the kittycats so much Happy birthday kittycats


---
RE: hAPpY biRtHdAy to US!! and YOU!! please sign our guest "book!" - Cari Cuthbertsson - 02-12-2021 02:34 PM

Happy birthday, everyone.
I'm a bit late to the KittyCatS world but I adore them.
Floofies are my favourite.
The group is one of the friendliest ever and everyone is so very helpful.
Thank you all.


---
RE: hAPpY biRtHdAy to US!! and YOU!! please sign our guest "book!" - aquarius27 Resident - 02-12-2021 02:36 PM

happy 10th birthday kittycats got my first kittycat when i moved into my first sl house it was a tree house i put up fencing so my kitty would be safe she is still with me today her name is mocha she is a beautiful siamese since then i know have 16 kittycats including special occasions and love every single one recently did my first breeding of the 2 megapuss gingerbreads I love kittycats


---